Bob on 04 6, 2010
I present to you the NBA All-Ugly team. As there is an abundance of downright goofy (some funny, some terrifying…it's a mixed bag) looking players in the NBA, I was able to compile 1st, 2nd and 3rd team All-Uglies. Keep in mind these teams are made up of players who are currently in the league, and I am indeed heterosexual ('cause I know some wise guy's thinking about replying to this post with "who's this dude judging guys?").  Additionally, I can't begin to tell you how hard it was to exclude Sam Cassell from this post, so I've gotta get this out of the way:
Alright, let's dish out some All-Ugly awards:
THIRD TEAM ALL-UGLIES:
Center: Kendrick Perkins
Does Kendrick Perkins just wake up angry?  Hell might freeze over the day I see Perkins crack a smile.  The closest thing I've seen to a smile from this guy is from his neck rolls bunching up. Welcome to the NBA All-Ugly team, you grumpy motherfu*ker!
Power Forward: Pau Gasol
Seriously, if you placed Pau Gasol on a ranch of Ostriches I might not be able to tell the difference. 
Small Forward:  Hedo Turkoglu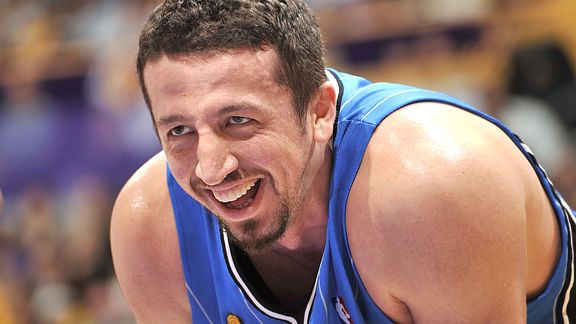 Wait a minute, is that Quasimoto on the basketball court?  Nevermind, it's just The Turk.  Nooo, it can't be Turkoglu on the court; he usually plays sick so he can go clubbing! Anyways, what are the odds Hedo accidentally got hit with a shovel or stepped on a rake when he was younger?
Shooting Guard:  Manu Ginobili
Who's the terrorist in the Spurs uniform? (Alright, this might be a little politically incorrect, but I call a spade a spade.  I know some of you have thought the same thing.)   Manu is missing something, and I'm not talking about his bald spot.
Point Guard:  Steve Nash
I really can't bring myself to say anything intentionally cruel about one of the filthiest, funniest players in the NBA, however; I don't feel too guilty letting you know what my 100% honest thoughts were when I first saw Nash:  I thought to myself, "this poor burn victim."  I'm completely serious.
SECOND TEAM ALL-UGLIES
Center:  Greg Oden
Who is the 65 year old man with a bum knee on the bench?  Is that LeBron's long lost father?  Nope!  That's 22 year old Greg Oden!  Great kid, unfortunate circumstances, truly.  Sorry for naming you to the 2nd team of NBA All-Uglies, but hey, this is probably the first time pictures have been posted of you above the shoulders in awhile!
Power Forward:  Joakim Noah
Hey Joakim:  Cut your fuc*ing hair and stop acting like a tool!  You look like an angry, primitive female.
Small Forward:  Andrei Kirilenko
Remember when I said some of the All-Uglies were just funny looking?  Here you go.  I typically smirk and shake my head every time I see AK-47 and his goofy-ass hairdo.  If you've seen Rocky IV, you should recognize the guy in the middle.  Seriously, doesn't Kirilenko resemble Ivan Drago?
Shooting Guard:  Delonte West
When Delonte isn't doing his best rendition of Antonio Banderas from Desperado, he is busy holding down the 2nd team of NBA All-Uglies.  I don't know if it's the perma-herpes or what, but Delonte is one goofy looking dude.  Don't play him for a fool though; D. West might go bipolar on you.  Especially if you don't have his doooo-nutttts.  How player is that?
Point Guard:  Steve Blake
Maybe it's the fact that Steve Blake looks like a chihuahua, or a light-haired McLovin.  Whatever it may be; Steve Blake snuck his way onto the All-Ugly list.  Does he have a congenital growth-hormone condition?  He's 30 years old but he looks like he's 12!  (see:  Andy Milonakis)
And now on to the ugliest of the ugly!  Cue the drumroll.  Ladies and Gentleman:  I now present to you the
FIRST TEAM ALL-UGLIES
Center:  Chris Kaman
Not only did Chris Kaman earn a spot on the 1st team of All-Uglies, he earned top honors as the ugliest man in the NBA, and possibly to grace the face of the earth.  Question:  Where would Kaman be if he wasn't good at basketball?  Would he be lowering a basket of lotion into a well?  Instructing his  captives to "put the lotion on the skin?"  I don't know….but I've legitimately had Chris Kaman nightmares.  In the words of Arnold: "You are one ugly mothafucka!"
Power Forward:  Shelden Williams
It looks like someone played pin the facial features on Shelden Williams.  Not only does he look extremely odd; his wife is better at basketball than him!  Tell me that Ken Griffey Jr. with gigantism character from the Simpsons isn't his clone!
Small Forward:  Adam Morrison
Parents; hide your children!  Chris Hansen; prepare to walk out of the back room!  We've got a sexual predator in the arena!  Oh wait, that's Adam Morrison!  Dude, you look like a serial rapist; shave your creepy rat 'stache.
Shooting Guard:  DeMar DeRozan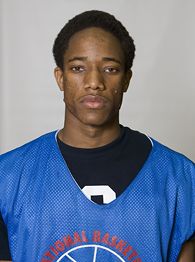 DeMar was blessed with freakish athletic ability.  Unfortunately, he can't say the same about his looks.  Who needs to buy psychedelics when you can just go pick some fungii off DeRozan's face!
Point Guard:  Chris Quinn
As you may have noticed, the PGs on the All-Ugly teams have been relatively weak.  While putting these teams together, I noticed a correlation between size and ugliness.  Anyways, similarly to Steve Blake, Quinn looks like a 12 year old.  He also has that creepy look.  It's not hard to tell that there are some dark thoughts going on in that mind of his.
There you have it, folks; your NBA All-Uglies!  Who'd I snub?
[UPDATE] After plenty of feedback, I added a list of reserves that may have been snubbed from the All-Uglies:
Anderson Varejao
Luis Scola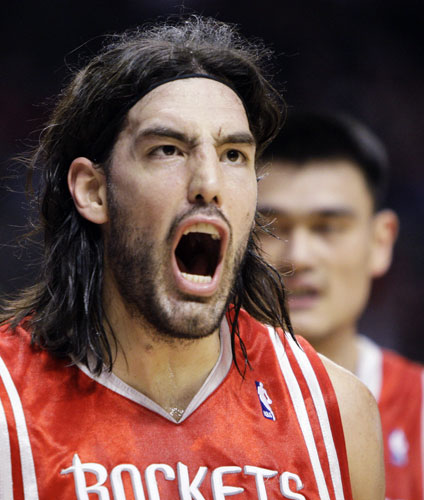 Tayshaun Prince
Mike Bibby

Marcin Gortat
Charlie Villanueva
Zaza Pachulia
Josh Boone

DJ Mbenga
Nenad Krstic
Dirk Nowitzki