Tyler on 04 20, 2009
Kevin Garnett, Manu Ginobili, Tracy McGrady, and Jameer Nelson, all essential cogs in the wheels of their respective teams, are all out with injuries for the postseason. Despite the fact that their teams are still legitimate contenders for the NBA championship, without these guys their teams now lack that part of the game that they brought to the table.
Without Kevin Garnett the Celtics lack the inside shot blocker, an offensive matchup nightmare, and maybe more importantly their defensive intensity. Manu Ginobili brings the Spurs offensive creativity and explosion, along with an overall scrappy attitude which would catapult them to the next level. Tracy McGrady is undeniably one of the most complete, explosive offensive players in the league who has also shown a stronger defensive mentality over the last couple of years. The Orlando Magic have the game's best center surrounded by explosive slashers and dirty three point experts. Jameer Nelson was essential to this team because of his role to distribute the ball discriminately to this highly talented squad.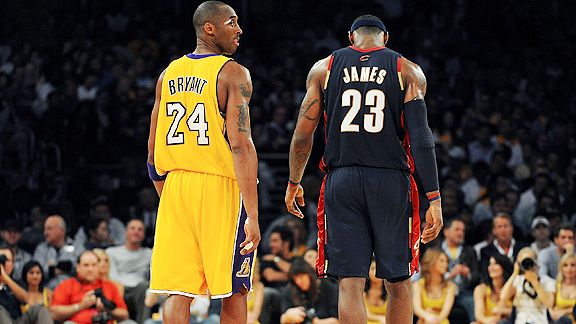 The Pistons are over the hill, clinging to the young Stuckey to give them that youthful energy. The Trailblazers and Hawks possess the ability to contend in a game with the top two teams, but lack the experience to win in seven. The Bulls, Jazz, Mavs, and Sixers are in the playoffs by default and don't really have any business packing their bags in the first round. The Denver Nuggets are 0-3 against the Lakers with Bynum in the lineup and quite frankly are too small and timid inside to pose any threat.
This leaves the league in exactly the position they wanted to be in. Lebron James and his +60 win Cavs and Kobe Bryant and his +60 win Lakers. With no disrespect to D Wade, these two players are unanimously 1a and 1b best players in the league, with their teams in the same 1a and 1b positions. Sounds great doesn't it? Sure. Great. Wonderful. Except for the fact that there are still three rounds to play while we wait for this undoubtedly historic meeting. Being a Laker's fan, I hope to see this showdown for as long as possible so I can tell my kids and grandkids about the second-coming of the Magic-Bird battles, but part of me wishes that these other teams would step up, get their shit together, and give us 6-8 teams that all possess what it takes. So good job NBA, you're two heralded superstars path to the Finals seemingly gets easier by the day, giving you the glorious match up you have spent all those advertising dollars to see, but only at the cost of almost pointless series before it.