Matt on 12 3, 2009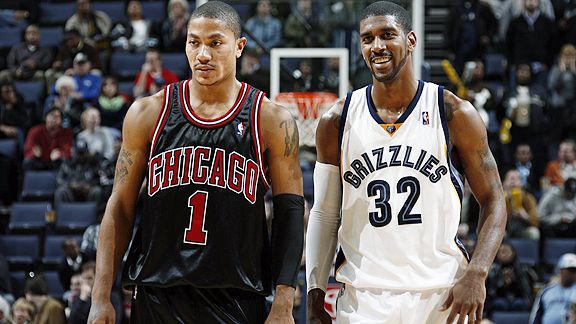 I know, you're caught off guard, but I'm going to talk about the NBA some more.  Sound good?  Derrick Rose is the reigning rookie of the year.  He sure doesn't look like it.  In his first campaign in the NBA, he averaged 16.8 ppg, 6.3 apg, and 3.9 rpg while shooting 47.5% from the field.  Through 12 games this year, he's gotten worse, in the major statistical categories.  He's currently putting up 15.6 ppg, 5.2 apg, and 3.0 rpg while shooting 46.3% from the field.  Huh?  Ok, it's early.  Time to panic for Bulls fans?  Probably not.  However, this is definitely a cause for concern.  Sure, some may argue that stats aren't everything, but it's not like the team is setting the world on fire.  Chicago's 6-9.  The jump from the rookie year to the sophomore year should be considerable.  OJ Mayo and Brooke Lopez, who finished 2nd and 3rd in rookie of the year voting, are definitely showing improvements right now.  Maybe it's Rose's ankle injury. We'll see what happens.
Congratulations to the Detroit Pistons, who overpaid for Ben Gordon and Charlie Villanueva, two guys leading them to a stellar 6-11 mark so far.  I knew this wouldn't work.  I just knew it!  Yes, I'm excited!  I like being right!  Didn't they dump Chauncey Billups for Allen Iverson's expiring contract so they could have a shot at landing a big free agent in the summer of 2010?  Apparently not.
A team that people were expecting to bounce back this year was the Washington Wizards.  I guess not.  They're 5-10, and looking terrible defensively.  Arenas isn't the same, and probably never will be after multiple knee surgeries.  Flip Saunders looks like a man recovering from triple bypass surgery every time Gilbert launches one from 29 feet.
The Nets are 0-18.  It's the John Wall Tank-a-Palooza!  Kiki Vandeweghe is taking over as coach, and should teach the kids some solid defensive skills.  Oh, wait, scratch that, Kiki was one of the worst defenders in NBA history.  The Nets will continue to stink.  This is a national crisis.  Can we get Obama to address this situation?
Think the Timberwolves miss Kevin Love a bit?  A 2-15 start might give you that impression.  Kevin McHale got out just in time, and he's been great on TV so far.
The Toronto Raptors are absolutely terrible on defense, giving up 109.1 ppg so far (holy shit), starting 7-12.   Well, I guess they weren't signing Turkoglu for his defensive prowess.
It looks like Allen Iverson's going to back to Philly.  Happy happy joy joy!  You know how this is going to turn out?  Exactly like it did in Memphis.  It'll be great at first, a honeymoon, Philly fans are going to be nostalgic, they'll embrace him, and remember the good old days.  Then the 76'ers will continue to stink.  Iverson will complain about playing time.  The fans will get anxious.  (This is the city that booed Santa Claus.  Put nothing past them.)  Sure, there's a chance Iverson will last the whole year there.  But I'd put my money on them dealing him before the trade deadline, or just cutting him (it's a non-guaranteed contract).  Iverson will probably retire again.
Ron Artest just revealed that he used to drink at halftime of games when he was a Chicago Bull.
"I used to drink Hennessy … at halftime," Artest says in the interview, which hits newsstands this week. "I [kept it] in my locker.  I'd just walk to the liquor store and get it."
"When I was a 19-year-old father, whew.  I was a single pimp!  I was wild," he told the magazine. "A lot of marijuana and alcohol – even before [that age]. … I [still] party and I have fun, but not like I used to.  I used to drink every night and party every night."
Can't say I'm surprised.  As I wrote a while back, Ron Artest is the most insane basketball player ever, and it's not even close.
Join the forum discussion on this post - (2) Posts