Bob on 11 10, 2009
First off, I'd like to apologize to my dedicated readers (if such a group exists) for my extended absence.  Having to cope with solely baseball and DVRed games I've seen dozens of times for a period of months really sucked the life and enthusiasm out of me.  But now that I am no longer being polluted with baseball, and football, basketball and hockey are the sports dominating my television/life, what better time to crawl out of my cave?
With the college basketball season tipping off last night and a handful of ranked teams logging their first minutes of the regular season, what exactly did we take out of the first night of hoops? To be concise; UNC is overrated, and OSU's Evan Turner might be the most complete player in the country. Oh yeah; Syracuse can convincingly beat teams like Albany, but they might run into a bump in the road if they have to face a powerhouse like Division II LeMoyne.  I'm not sold on Cal, either.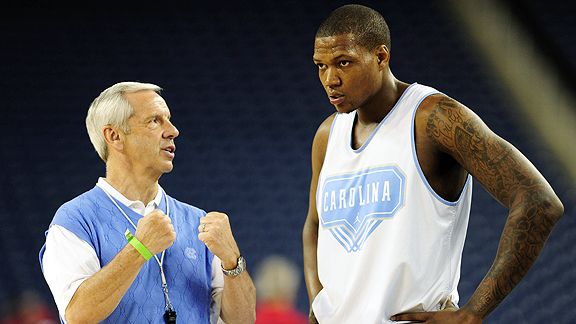 How can I make these brash statements after one night of games? With flawless logic of course! I understand it's almost a given that the Tar Heels are ranked in the preseason top 5 every year, but let's be realists here; UNC is not the 4th best team in the country. You're telling me a team that lost four McDonald's All-Americans (Tyler "Psycho T" Hansbrough, PG Ty Lawson, SG Wayne Ellington and swingman Danny Green) to this year's NBA draft is worthy of a top 5 ranking? Correction: UNC lost five All-Americans if you wish to include Bobby Frasor, who, in my opinion, certainly does not deserve recognition, but for all of you UNC die-hards who were taken aback that I forgot to include Bobby Frasor; there you go.
Similar to other prominent programs, the Tar Heels don't rebuild; they reload. Although UNC's roster of 4 and 5 star recruits might look great on paper, there are other factors that must be taken into account. Sure you can put a grade or a star on athleticism, size and a jump shot, but team cohesiveness isn't given stars or rankings. The Heels lost four (five? Damnit, Bobby) All-Americans from their championship team, as well as their heart (Hansbrough). These guys played with each other for three years or more, working as a cohesive unit. The Tar Heel alum who now have 82 games on their schedule made the decision to stick around an additional year to win a National Championship. Why were they champions? Sure, talent is certainly important among other things, but that's not what I have in mind.  I'll give you a hint; it starts with a "C" and ends with "hesiveness."
A team that loses the kind of talent, experience and unity like Roy Williams just lost is simply not a top 5 team in the country. Maybe by Dicky V's standards; not mine. If you told me a team that was legitimately the 4th best in the country would only win by a margin of 16 (spread was 32.5) at home against FIU I'd tell you they aren't the 4th best team in college basketball. In case you didn't pick up on it: this is me telling you the Tar Heels aren't the 4th best team in college basketball. Last year's Tar Heel team would've won by 60. Mark my words; this North Carolina team will absolutely not repeat this season.  Not a snowball's chance in hell. They're too inexperienced.

On to the next observation from opening night…
Ohio State's Evan Turner is an absolute stud, no ifs ands or buts about it. Turner is primed for a mammoth season. We got a little taste of this last night when ET dropped 14, 17 and 10 for his first collegiate triple-double which was only the 2nd triple-double in Ohio State history. Coincidently, this was Turner's first start at PG for Thad Matta's Buckeyes. A triple-double? In his first game as the starting point guard in the season opener? Wow. Don't give me that "it was against Alcorn State" rubbish. Every team has some inferior squads on their schedule; but very rarely do you see a college player get a triple-double.  I don't care who it's against.  This was not a fluke, folks. Evan Turner is a rare breed of player.


With the return of a healthy David Lighty and the emergence of William Buford, who did an exceptional job filling in for the injured Lighty last season as a freshman, Thad Matta was left with a tough decision; bring Buford or junior sharpshooter Jon Diebler off the bench? With a leader like Evan Turner who has exceptional handles for a player his size, Matta made the decision to start him at the point so neither Buford nor Diebler would have to come off the bench. With OSU's preseason All-Big Ten player at point guard, it allows Coach Matta to put his 5 best players on the floor.
What does this mean? Evan Turner is going to put up colossal numbers. Not just against the Alcorn States; everyone. The guard nicknamed "The Villian" averaged roughly 17 pts, 7 boards, 4 assists and 2 steals last season and, in my opinion, was snubbed for Big Ten Player of the Year  Look for these numbers to go up this season; considerably.
So why exactly will Turner be significantly better than last year? For starters, he is one of if not the most well-rounded players in all of college basketball. He has a tremendous work ethic and is a student of the game. In case you haven't realized it yet; to be an elite player in any sport it takes some intelligence (there are a few exceptions). If you want an example of this, look no further than OSU's football team. Yes, you know who I'm talking about. Terrelle Pryor. A freak athletically. 6'6, 235-240 lbs, runs a 4.33 40 yard dash. Doesn't have it between the ears though. If you happened to see Terrelle's response as to why he wrote Mike Vick on his eye-blacks you will understand what I'm talking about, if you don't know what I'm talking about; google it.  I'll leave it at this; not everyone kills people Terrelle, actually, very few people kill others.  Either you grew up in a really, really, really grimy neighborhood or you are in la-la land.  I'm going with the latter.
Anyways, back to Turner. He can hurt you in a number of ways. With shooters like Diebler, Buford and Lighty on the floor with him, this makes him very, very dangerous at the PG position. ET causes a severe mismatch for the opposition. He can take you off the dribble, and if you try to double-team him, he can kick it out to a handful of great shooters waiting to knock down the open shot. He is a beast on the boards on both ends, and now that he will be playing quite a bit of point guard, he can take his defensive rebounds and lead the fastbreak. This pushes the tempo and doesn't allow defenses to get set; this was on display last night.
One last reason Evan Turner will have a huge season…yup, that "C" word again; cohesiveness. The Buckeyes lost underachieving BJ Mullens to the NBA and that's it. Ask OSU fans if they miss Mullens much and the answer you'll probably get is "no." With the exception of sophomore William Buford (who earned Big Ten Freshman of the Year honors for his surprising play in place of David Lighty), the starters have 2 years of experience with each other.
Not only will Evan Turner have an outstanding season, Ohio State will as well. With the kid they call "The Villain" at the helm of the Ohio State basketball team, the Buckeyes can and will compete with any team in the country. Don't be surprised if you hear his name when National Player of the Year talks begin (somewhat of a bold prediction, but I can't stress it enough; this kid is a special talent).
Don't believe me about UNC being overrated or Evan Turner being one of the most complete, versatile, game-changing players in college basketball? Tune in to ESPN2 at 9:00 PM ET on November 19th and see for yourself.